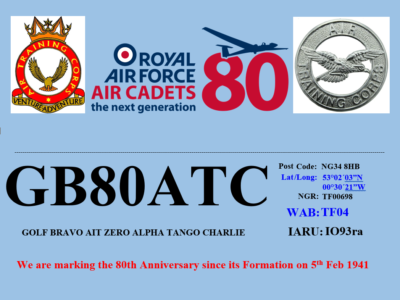 GB80ATC – End Ex. The GB80ATC year ended on Friday 4th Feb 22 with 320 Contacts/QSO's being made on CW, Voice, Data and QO-100 Satellite; many thanks to the Operators that have taken time to work this special callsign.

GB80ATC was a special event callsign issued to mark the 80th anniversary of the formation of the Air Training Corps (ATC).
The Air Training Corps was formed by Royal Warrant on the 5th of February 1941 and today has it's Headquarters at RAF Cranwell in Lincolnshire, England.